The importance of a personal explanation
For investors, the visibility of the Board of Directors is of great importance. Especially around the time that results or important company news is announced. This is exactly the time they visit the company's website, to hear the vision of the CEO or CFO. Above all, investors want a personal explanation, in addition to the essential facts from the press release.
Present your news the right way
To this end, CorpTV produces an IR video, a journalistic video interview with the CEO or CFO that can be published along with the press release on the company website. The interview allows management to give a personal explanation and present the news with the right perspective and commentary. It also increases transparency. The interview is prepared in consultation with Communications or Investor Relations and can, for example, anticipate questions raised by analysts and journalists. In practice, the video interview is excellent preparation for analysts' calls and media interviews on publication day.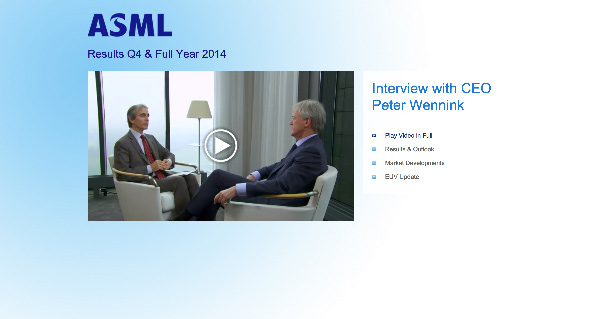 Video player in house style
The interview can be placed in an interactive video player, produced in the company's house style. Viewers can then choose the topic that interests them (results, outlook, market developments, etc.) and, should they want to, they can react via an email link. The player can also incorporate a downloadable transcript of the interview. The interviews can be subtitled in all languages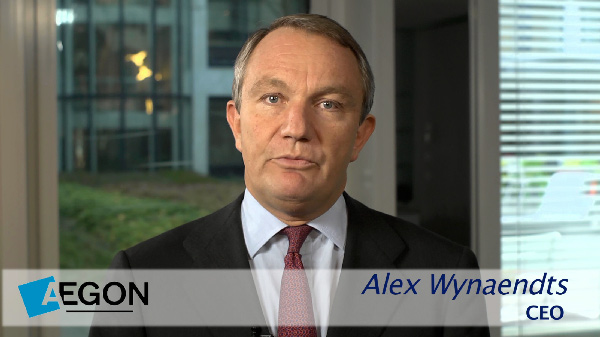 Video statement
As an alternative to an interview, you can also choose for a video statement that briefly explains the most important developments. With the aid of autocue this can be recorded in a short time.

Ratings and viewer habits
We can provide audience statistics for videos that are published via our platform. You can see how many viewers there are, how often the video is watched and where. You can literally see in which city, in which country your video is being watched. We can also provide insights into viewer behaviour (attention span), which allows you to see how much of the video is watched and when people stop viewing. The data is available per time period (24 hours, 48 hours, 7 days, 30 days, per quarter). In addition, we can conduct qualitative research into the impact of your video by interviewing viewers.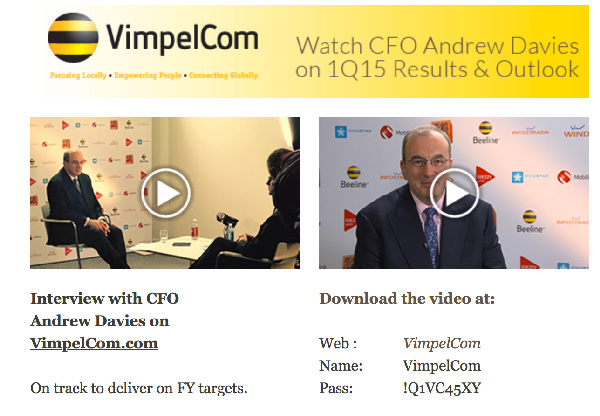 Increase media exposure with video release
The video interview is also distributed to media via a video press release. Journalists and news wires can immediately take a quote from the interview for an article or news bulletin, in anticipation of the analysts' call or press conference later that day. We can also distribute 'ready-made' soundbites from the interview to broadcasters and online media.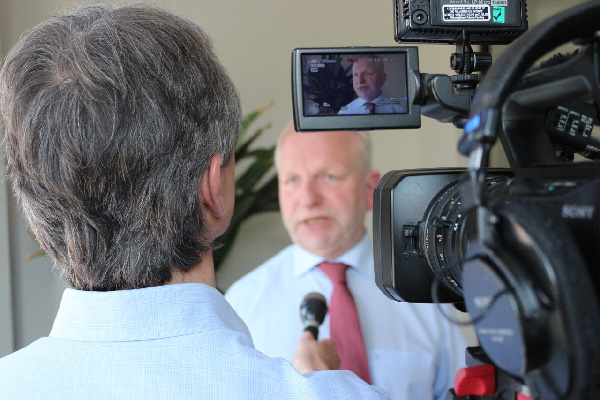 Media training
It is possible to prepare for the interview – or the forthcoming press conference or analysts' call – with a short media training by a team comprised of a journalist and/or analyst. They can, for example, prepare the Board of Directors for expected questions.
The video interview gets more clicks than the press release
An excellent addition to the press release
A perfect preparation for the analysts' call and media interviews
It brings the figures to life
I want to hear it from the CEO in his own words
Absolute value added in respect of the press release
I want to be able to see if the CEO or CFO believes in the story told in the press release
Body language is really important and you can't see that during a call
Word choice is really important and that really comes across in a video
It's great for getting a direct quote
It's really good that it's available at the same time as the press release
Good and credible content